A surface with optimal conditions all year round
Precision stitching technology,
100% electric and with laser guidance
State-of-the-art stitching
GrassMax is a hybrid turf system using a process called "stitching". It consists of injecting synthetic fibers on the ground, every 2 centimeters, to a depth of 18 centimeters. This system increases the horizontal and vertical stability of the natural surface.
Recommended field profile
Before the injection of synthetic fibers, each phase of the implementation must be carried out by a competent team experienced in the construction of high-level hybrid fields. Contact us to learn more about the field profile required for the implementation of the GrassMax technology.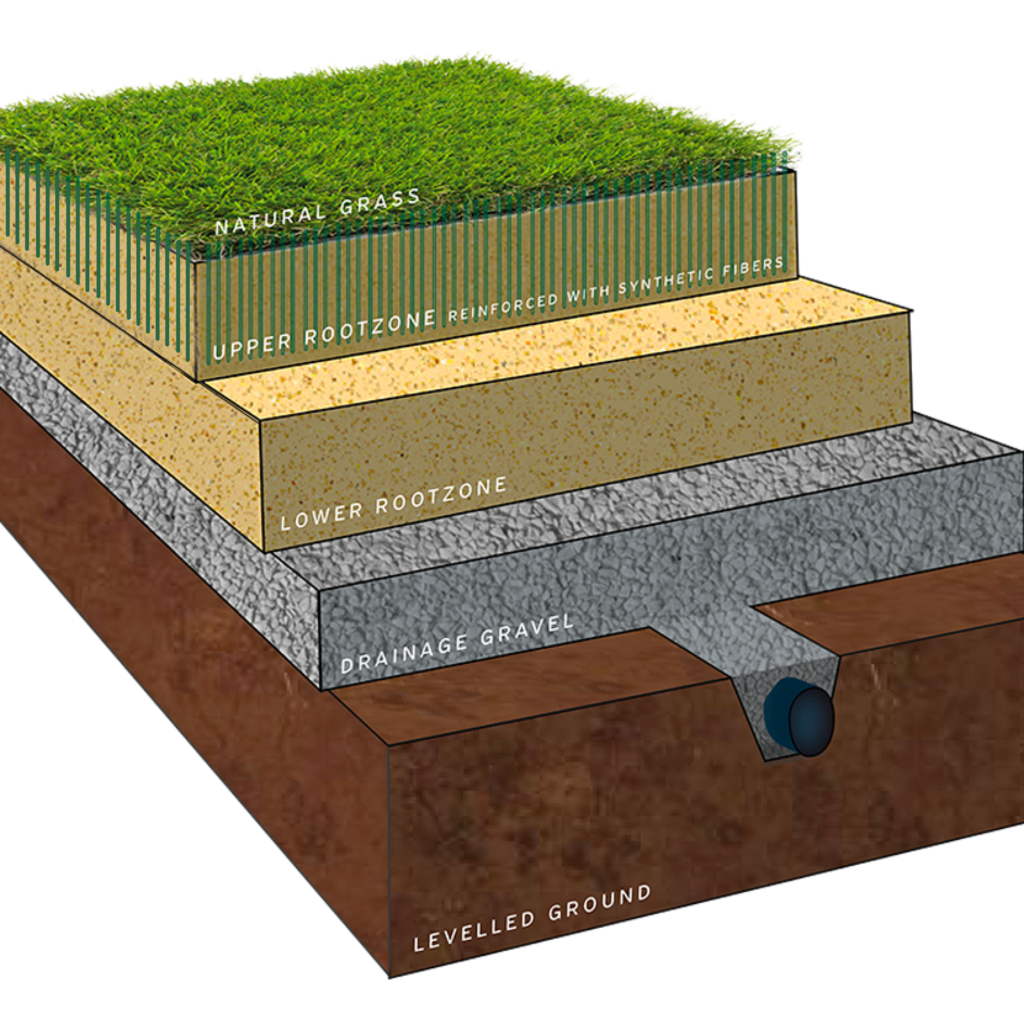 A technology that combines
reliability and precision
Increase of the usage intensity by 3

Frequent alternation between soccer and rugby.

Constant, stable playing surface, resistant to intensive use
Longevity of 10 years

Power supply: no oil stains on the field, no compaction
Homogeneous, fully electric, laser-guided injection

A stitching rate exceeding 500 sqm per day, per machine

Fast and accurate stitching without overlaps or missed rows

Choice of 3 different synthetic fibers
A fast implementation,
a high-performance surface all year round
A unique know-how in the implementation
of hybrid surfaces by injection
Natural Grass has an expert design office, experienced in the design and management of complex projects. The company, having all the existing hybrid turf systems, is able to propose the most suitable turf technology according to the initial configurations of the site. In this sense, the stitching technology has been implemented by our teams on several sites in France and abroad when it proved to be the most relevant.
Hybridization is easy to implement once the field profile is completed. One or more stitching machines (depending on the urgency of the schedule) are delivered to the site and inject fibers at a rate of about 2000 clumps/minute. The injection of fibers is possible before or after seeding. A team of professionals remains on site at all times during the stitching process.
Our experts are mobilized to accompany you in the upskill of your maintenance team to preserve the agronomic and mechanical qualities of the hybrid surface by injection on the long term.